In the Swiss area of Alta Rezia - the Poschiavo valley, St. Moritz, the Monastero valley - there is an unmissable variety of freeride tracks for the mountain bikes.
With the unmistakable features of the Swiss landscapes, with such care in maintaining things and the cleanliness of the villages, the tracks found in this area represent an experience not to be missed.
The possibilities for having fun riding a MTB are many and all unforgettable and special: the difficulties are moderate, but the fun is guaranteed.
Bernina Express
Using the Bernina red train (also called Bernina Express) from Tirano to reach the Bernina pass (2,328 m asl) in a quiet and very particular way. At that point you have two attractive alternatives: descend to Tirano on single trails and secondary roads or descend towards St. Moritz and enjoy the whole plain between Pontresina, Celerina and Silvaplana.
Read also the article by Red Bull about this magical adventure.
Val d'Uina
Another spectacular loop tour, almost entirely in Swiss territory, is the one that passes through the legendary Val d'Uina.
It starts from Santa Maria (in Val Monastero) and faces the climb to the Pass da Costainas (2,251 m asl), the descent to S-Charl (1,810 m asl) it is in an unspoilt and very wide valley. The descent ends in Scuol, in the Lower Engadine.
Go up the valley floor as far as Sur En and taking the val d'Uina you face the first uphill stretch on a very wide dirt road with not too demanding slopes. At the top of the valley, the route becomes incredible and very particular: to get to the pass you have to cross a section carved into the rock, on a precipice of about 50m. The descent to Slingia is simple, with sometimes challenging slopes. Arriving near Glorenza, you return to Switzerland along the Val Monastero until you return to Santa Maria.
Cassana Pass - Val del Fen
Departing from Livigno, you can take another circular route passing through the Cassana Pass, descending into the Lower Engadine, crossing the plain up to Pontresina, go up again via cycle paths and single trails up to the Diavolezza (ski lift that takes you to the glacier of the same name). To return to Livigno it is very nice to travel through the Val del Fen. The final part is very demanding with a very steep descent overlooking the road below, which leads to the Forcola pass.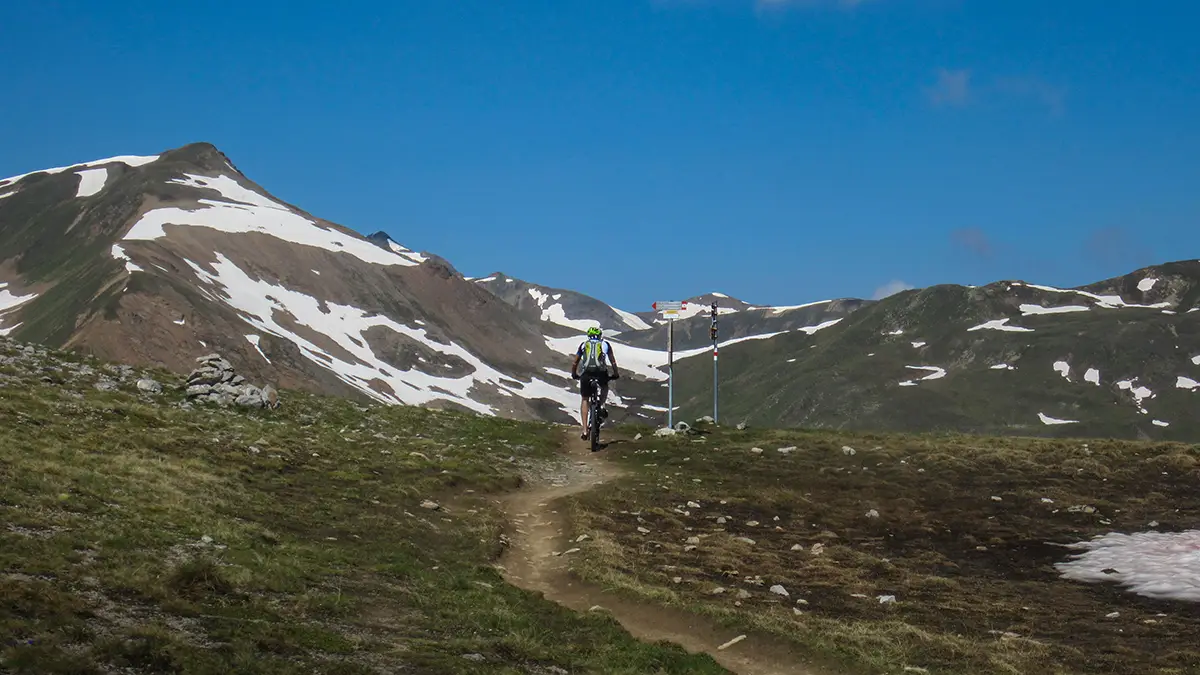 From Santa Maria, via Val Mora, there is a well-known route for entering Italy and also used a lot by the numerous transalps (multi-day tours that take bikers from Germany to Lake Garda ) that pass through the area and have as their destination Livigno or Santa Caterina Valfurva.